Solar Panel Cleaning For Maximum Energy Collection In Rincon
BW Exterior Wash Services is the right solution for the job when your Rincon home needs solar panel cleaning. We use careful cleaning techniques to take care of delicate jobs like solar panel or roof cleaning. There's no room for collateral damage when it comes to your rooftop or solar panels.
When property owners first have solar panels installed, they learn about the required maintenance, including keeping them clean. However, you're going to need professional assistance in keeping your solar panels clean because this is not the type of job that's DIY. Professional solar panel cleaning is the most appropriate method to use so that you can be sure your panels are cleaned regularly and correctly.
A common misconception people have about cleaning solar panels is that it's unnecessary because the rain will wash away debris and dirt. That's a dangerous misunderstanding because if your solar panels are neglected and don't get cleaned, they won't work the way they're supposed to and could even end up damaged.
Solar Panel Washing Specialists
Expert pressure washing for Rincon exterior surfaces is our area of expertise, but we provide services that many other pressure washers don't. To us, taking care of your needs is the primary point of providing any of the exterior surface cleaning services we do, so we want to be able to address all of your needs and concerns, including solar panel cleaning.
Our Solar panel washing specialists are able to wash away contaminants that can cause problems with your panels like:
Dirt and Dust
Tree Sap
Bird Droppings
Grime and Soot
Even smog and car exhaust are factors that contribute to leaving a film and residue on the Photovoltaic cells and cause enough of a barrier to prevent your panels from operating correctly. However, shoddy cleaning work won't do enough because that can cause smears or scratches on the surface of the glass or anti-reflective coating.
Commercial Solar Panel Cleaning Available
The team at BW Exterior Wash Services is ready, willing, and able to spring into action and provide you with a top-notch cleaning service for your solar panels. One phone call is all it takes to receive your free quote and get your pressure washing appointment booked.
Call us now and find out firsthand why our solar panel cleaning is second to none around Rincon. We're eager to have the opportunity to work with you and provide you with the services you need and the level of care you deserve.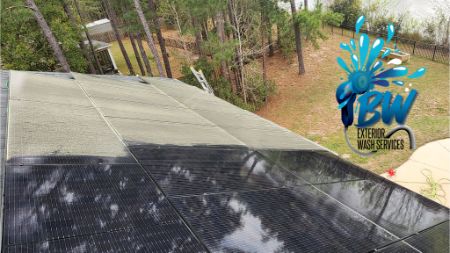 ARTICLES & TIPS
Safe and Slip-Free: Restaurant Grease Removal Services for Concrete

When it comes to running a successful restaurant, cleanliness and safety are paramount. One area that requires special attention is the concrete surfaces where grease and oil tend to accumulate. Not only can this buildup impact the overall appearance of your establishment, but it can also […]

Why Wash My Solar Panels?

While we have been harnessing solar panels for energy for at least the past half-century, home solar panel arrays have only been taking off in popularity for the past decade or so. That means that many homeowners are still learning the ropes regarding their home solar […]
CALL TODAY FOR EXPERT PRESSURE WASHING IN RINCON & THE SURROUNDING AREAS!