Experienced Fence Cleaning In Rincon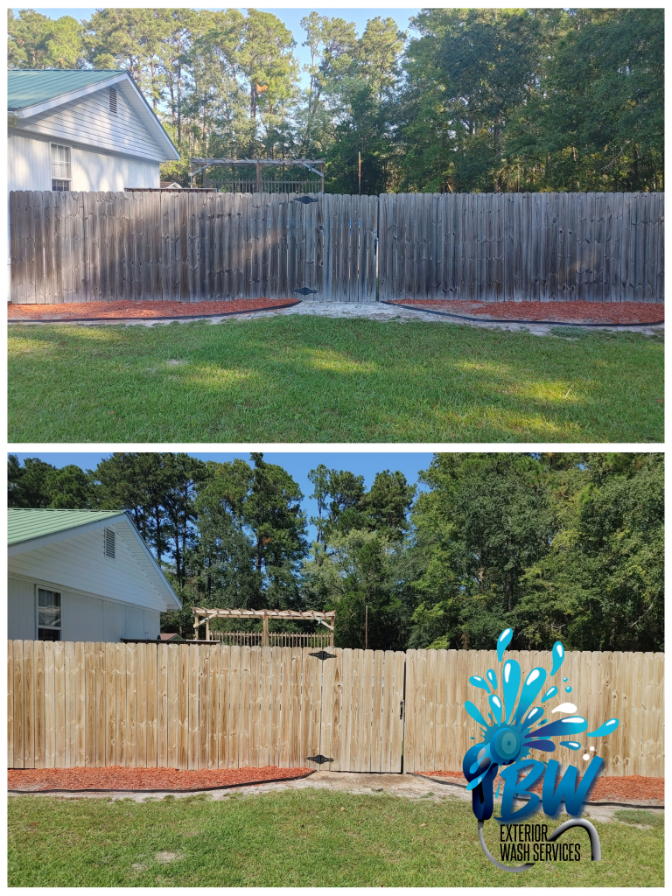 If your home's fence could use a cleaning, it's time to contact our team of professionals at BW Exterior Wash Services to schedule a fence cleaning service. Mold, algae, mildew, and exposure to rain and other elements can make your fence in the Rincon area look so worn and old that you might think you'll need to replace the whole fence. But chances are, it just needs a thorough cleaning! Our pressure washing specialists provide the best results every time for all fence types. The fence cleaning services we offer to Rincon come with free estimates and consultations so don't hesitate to contact us today!
Why You Should Wash Your Fence
Over time, your residential fence might lose its visual appeal after developing all kinds of organic growths and accumulations, such as dirt, mud, grass trimmings, fungus, and more. Not only are these growths unsightly, but they can also significantly reduce the structural integrity of your fence. When you had your fence installed, you did so with the expectation that it would last, and with fence cleaning from our team, your fence will be freed of damaging growths to keep it in great condition for years to come.
No matter what kind of material is used in your fencing, you need a good fence cleaning every few months. At BW Exterior Wash Services, we use high-quality, commercial-strength pressure washers that can get deep into the surface of your fence to draw out all the dirt and grime to return your fence to its former glory. This is especially useful for metal and most wooden fences, which can get particularly dirty in damp Rincon summers. You want to make sure your fence is in its best condition, visually and structurally, so it can serve you year-round.
For softer wood or vinyl fencing, we use a different technique known as soft washing. If water is blasted at your fence at too high a pressure, it could easily damage the surface and leave behind ugly marks or dents in the paint. Soft washing uses a combination of lower water pressure and special detergents and soaps to clean your fence without harming the delicate surface underneath. Don't worry– every solution we use is completely eco-friendly and safe for use around you and your family.
Making Your Fence Look Good As New
As the leaders in pressure washing for Rincon, we use the best methods and attachments so our services will make any fence look brand new again. You don't have to let your fence crumble and deal with the costly expense of a full replacement. Professional fence cleaning is the cheaper solution for beautiful and healthy fences that can last you many years. When it's time for expert fence cleaning for your home in Rincon, contact BW Exterior Wash Services.
Fence cleaning is just one of many great ways to enhance your property with new life and polish. Our pressure washing team also offers expert surface cleaning! Our highly skilled and experienced team can bring your concrete surfaces back from dull and dingy to gleaming with our premier pressure washing techniques. For all manner of home enhancement, you can trust BW Exterior Wash Services for the best results every time.
ARTICLES & TIPS
Safe and Slip-Free: Restaurant Grease Removal Services for Concrete

When it comes to running a successful restaurant, cleanliness and safety are paramount. One area that requires special attention is the concrete surfaces where grease and oil tend to accumulate. Not only can this buildup impact the overall appearance of your establishment, but it can also […]

Why Wash My Solar Panels?

While we have been harnessing solar panels for energy for at least the past half-century, home solar panel arrays have only been taking off in popularity for the past decade or so. That means that many homeowners are still learning the ropes regarding their home solar […]
CALL TODAY FOR EXPERT PRESSURE WASHING IN RINCON & THE SURROUNDING AREAS!