Pro Parking Lot Washing You Can Trust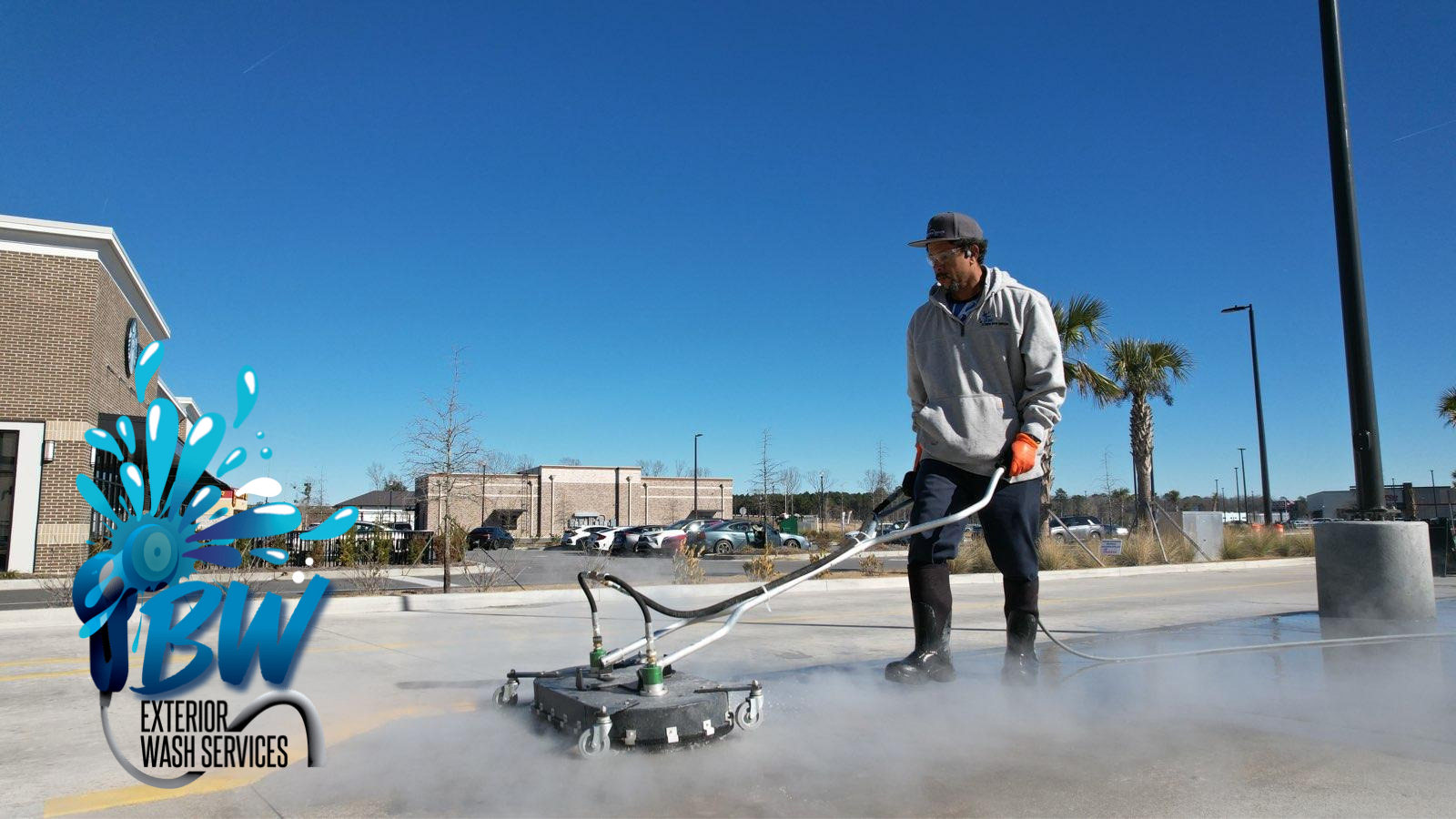 If the parking lot of your Rincon commercial property is looking kind of run down, let us help you spruce it up with a top-quality parking lot cleaning. At BW Exterior Wash Services, our pressure washing experts take pride in their ability to deliver parking lot cleaning services that'll make a real difference in the appearance of your Rincon commercial property. As your #1 Rincon pressure washing company, we're happy to serve you with top-tier parking lot washing services.
Concrete is very strong, but when it's the foundation of a busy parking lot, its resilience is tested day in and day out. Thanks to the negative effects of:
Daily vehicle pressure
Daily foot traffic
Dirt and dust
Wind-blown debris
Mold and mildew
Hard water stains
UV-related breakdown
And numerous other environmental nuisances, it doesn't take long for your parking lot to begin breaking down. If you want to ensure that your parking lot remains clean and functional for employees and customers alike to drive and park on, then parking lot cleaning should become a regular part of your parking lot maintenance routine.
If you're thinking that parking lot breakdown can't be avoided, you're correct. However, you can hold it off for years and years by keeping your parking lot clean with our expert parking lot cleaning service.
Parking Garage Washing
In addition to our expert parking lot cleaning service, we are happy to perform parking garage washing for your commercial property. The surfaces of a parking garage see as much traffic, if not more, than a parking lot. Regular parking garage washing can help you keep these structures functional for a long time to come!
For both traditional parking lots and multi-level parking garages, we use a gentle soft washing method that works just as well, if not better, than a general high-pressure pressure washing service.
Our parking lot cleaning method relies less on pressurized water and more on environmentally safe cleaning solutions and good old-fashioned elbow grease to lift dirt and grime from the surfaces of your parking areas. Water sprayed at gentle pressures acts as a rinse, sending all the rough stuff away from parking areas to leave them cleaner than ever!
Do I Need To Have My Parking Lot Washed Every Year?
If you want to keep your parking lot healthy and functional, yearly parking lot washing is a must. A lot of:
Dirt and dust
Mold and mildew
Tire and shoe skids
Hard water stains
Oil stains
Can build up on the surface of your parking lot during the course of a year. Keeping your parking lot and its markings fresh and up to date with parking lot washing and parking lot striping services can do your parking lot a lot of good! If you're ready to schedule a top-tier parking lot washing service for your property, please give us a call today.
ARTICLES & TIPS
Safe and Slip-Free: Restaurant Grease Removal Services for Concrete

When it comes to running a successful restaurant, cleanliness and safety are paramount. One area that requires special attention is the concrete surfaces where grease and oil tend to accumulate. Not only can this buildup impact the overall appearance of your establishment, but it can also […]

Why Wash My Solar Panels?

While we have been harnessing solar panels for energy for at least the past half-century, home solar panel arrays have only been taking off in popularity for the past decade or so. That means that many homeowners are still learning the ropes regarding their home solar […]
CALL TODAY FOR EXPERT PRESSURE WASHING IN RINCON & THE SURROUNDING AREAS!