We Offer House Washing To Quickly Upgrade Your Home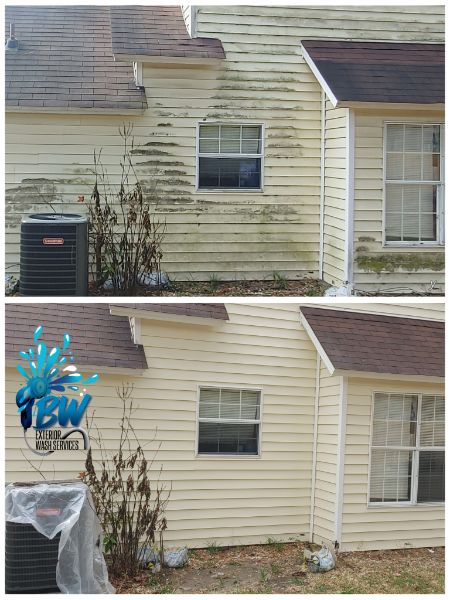 When your Rincon house could use a house washing to give its curb appeal a boost, you can trust one pressure washing company in town above the rest. BW Exterior Wash Services is the pressure washing company to call in Rincon for the best house washing service in the area. We are thrilled to be considered your top source for house washing and pressure washing for Rincon.
We know how much it means to you to maintain a high curb appeal for your Rincon home. That's why you probably have a regular maintenance and upkeep routine to keep your house looking its best. If house washing isn't part of your maintenance routine for your house, you're missing out on lots of benefits, such as:
An immediate improvement in curb appeal
A healthier environment for people and pets alike
A boost to the overall health of your house's exterior surfaces
A boost to the value of your Rincon property
Along with roof cleaning and driveway washing, house washing is one of the most important pressure washing services you can schedule. Without house washing, it's tough to keep your house looking as good as it should. House washing is a vital part of any upkeep routine, and one you should get into a habit of scheduling each and every year.
Exterior Cleaning For Residential Properties
Most homeowners hold back on scheduling house washing for their residential properties as a result of horror stories they've heard about the pressure washing process. We're talking about:
Cracked or damaged siding
Dislodged siding panels or damaged exterior walls
Broken windows
Holes in walls
With our soft washing technique, fears of those stories coming true become a thing of the past. Many of those issues are caused by excess water pressure used during sprays. Our process uses little to no water pressure, relying instead on environmentally safe cleaning solutions to lift dirt and grime from your siding. The water serves as a gentle rinse, erasing dirt and grime with little to no effort.
The result is a house that looks cleaner and healthier than it has in a long time!
Do I Really Need To Have My House Washed Every Year?
How often you actually schedule house washing comes down to personal preference. However, our pressure washing pros do suggest scheduling a house washing service yearly to keep your property in the best of shape. Yearly house washing helps defend your house from the negative effects of the elements while keeping it looking amazing.
If it's been a year since your last house washing, it's time to give us a call! We'll be happy to help you schedule a house washing service consultation or appointment. We look forward to hearing from you!
Latest House Washing Projects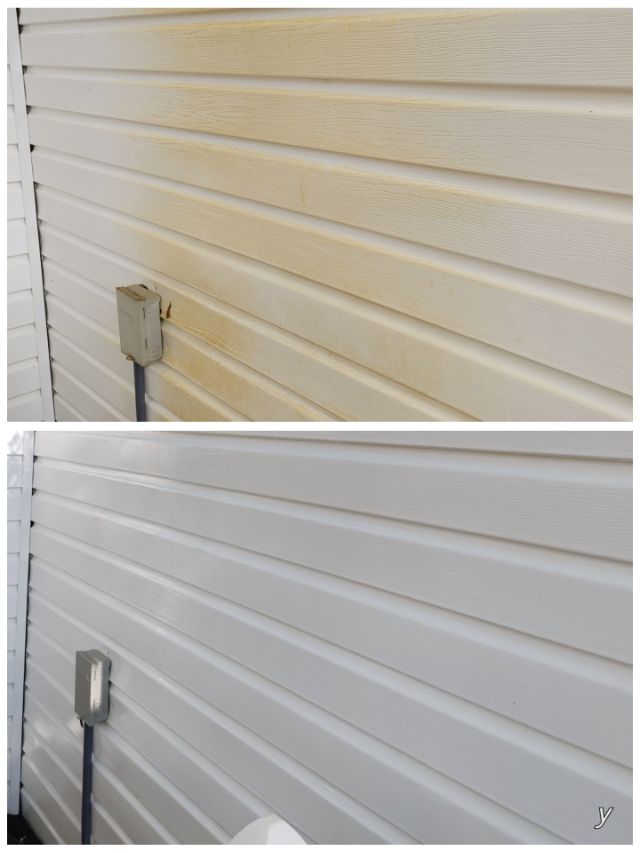 House Wash and Rust Removal in Rincon, GA
Customer got a house wash and also the rust remover add on. This rust stain was caused by a dripping air conditioner line. This line has been dripping for years. No problem for us. If you have rust on your home and want it gone, give […]
See This Project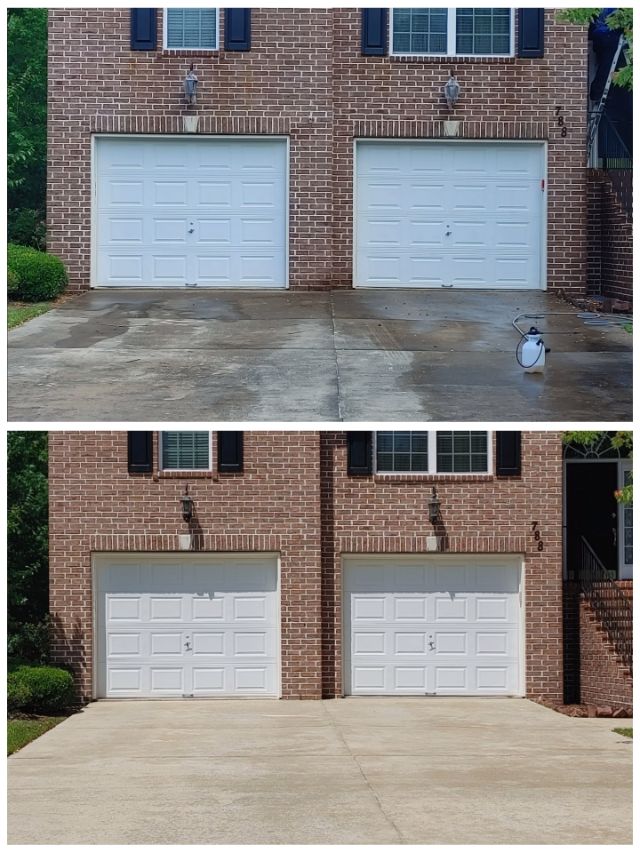 House Wash and Driveway Cleaning in Rincon, GA
Customer called needing a house wash and surface cleaning. We pressure washed the house and also had to touch up a rust spot from the irrigation. We also surface cleaned the driveway to leave it pristine clean. […]
See This Project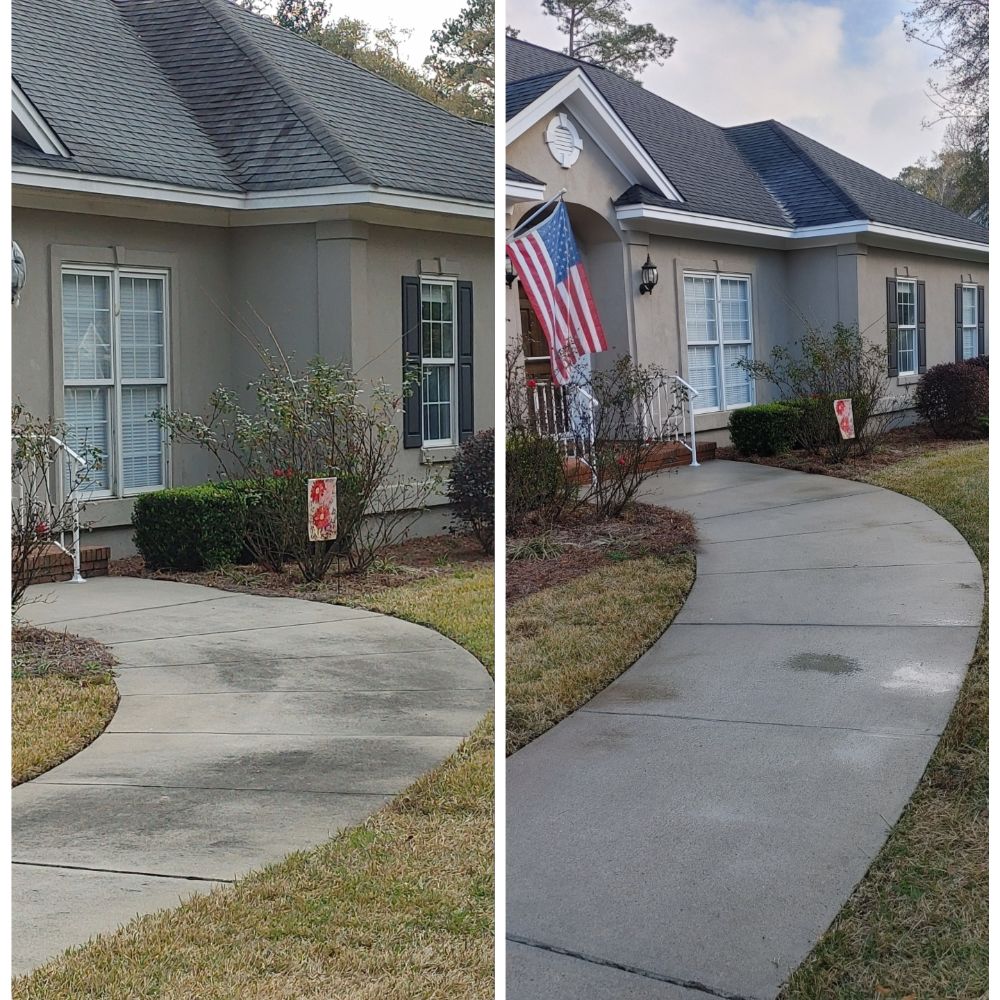 Full Service in Rincon, GA
Customer wanted property ready for new tenants. Gave this lovely home a full service exterior cleaning. Roof wash, House wash and surface cleaning. We soft washed the roof and the stucco home. We cleaned the concrete with our surface cleaner which will get rid of the […]
See This Project
ARTICLES & TIPS
Safe and Slip-Free: Restaurant Grease Removal Services for Concrete

When it comes to running a successful restaurant, cleanliness and safety are paramount. One area that requires special attention is the concrete surfaces where grease and oil tend to accumulate. Not only can this buildup impact the overall appearance of your establishment, but it can also […]

Why Wash My Solar Panels?

While we have been harnessing solar panels for energy for at least the past half-century, home solar panel arrays have only been taking off in popularity for the past decade or so. That means that many homeowners are still learning the ropes regarding their home solar […]
CALL TODAY FOR EXPERT PRESSURE WASHING IN RINCON & THE SURROUNDING AREAS!