Best Port Wentworth Pressure Washing Services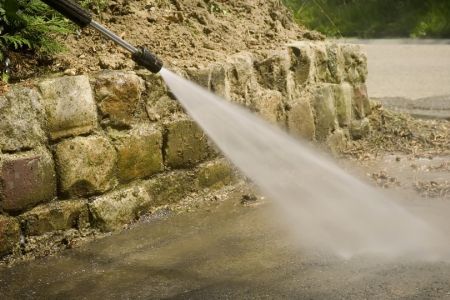 When you need pressure washing for your Port Wentworth property, don't delay - call BW Exterior Wash Services today! We are your top source for expert pressure washing services in Port Wentworth and beyond. We are thrilled to serve Port Wentworth and the surrounding area with our pressure washing skills and expertise.
We know how much maintaining the curb appeal of your Port Wentworth property means to you. We also know that, to maintain the curb appeal of your property, you work incredibly hard. With all that you do to keep your property looking its best, why not let us handle some of the hardest (and dirtiest) work for you with our pressure washing services?
We dedicate ourselves to delivering nothing but excellence. That goes for the pressure washing services that we deliver and the customer care that we provide. Our friendly Port Wentworth pressure washing professionals are able to deliver extra care on a level that many larger national pressure washing companies cannot. Being able to provide a high level of customer care is one of the biggest perks, to us, of being a local business!
We Deliver The Best Pressure Washing Results & Services In Port Wentworth
No matter what type of property you own in Port Wentworth, we can help you keep it looking amazing with expert pressure washing. At BW Exterior Wash Services, we're happy to be able to offer a wide variety of services for residential and commercial clients in Port Wentworth, including:
House Washing
Roof Cleaning
Stucco & Brick Washing
Rust Removal
Window Cleaning
Gutter Cleaning
Parking Lot Striping
Storefront Washing
The best way to keep your Port Wentworth property looking its best is to schedule one of our top-notch pressure washing services at least once per year. By scheduling a pressure washing service once per year, you're ensuring that your home or commercial property looks and feels its best for years to come.
Our Roof Cleaning Service Can Make A Real Difference For Your Port Wentworth Property
When you need a roof cleaning service that can boost the curb appeal of your Port Wentworth property, we're the company to call! With a great deal of expertise in providing roof cleaning services that can deliver stellar results without the risk of causing damage to your property, we'll make your roof look brand new again without needing to fear unnecessary repairs.
The soft washing roof cleaning technique that we use doesn't rely on heavy water pressure to do the job. In fact, our roof cleaning service uses very little water pressure at all, if any, during the course of the job. Why is so little water pressure needed for this service? The answer is simple.
With our soft wash method, our environmentally safe cleaning solutions work hard to lift dirt and grime that's hiding in the crevices of your roof. Nasty things like:
Dirt and dust
Wind-blown debris
Mold and mildew
Algae streaks
While gentle water simply rinses them away. When we're finished, we guarantee that you'll fall in love with the roof of your Bradford property again before the water even dries.
Maintaining Your Port Wentworth Home's Exterior with Expert House Washing Services
House washing in Port Wentworth is a crucial aspect of home maintenance that should not be overlooked. Over time, dirt, grime, algae, and other contaminants can accumulate on the exterior surfaces of your home, diminishing its curb appeal and overall aesthetics. By enlisting the services of professional house washing, homeowners can effectively remove these unsightly elements, revealing a refreshed and revitalized home exterior. Additionally, routine house washing helps to prevent long-term damage caused by mold and mildew, preserving the integrity of siding, bricks, and other materials. With skilled technicians and eco-friendly cleaning techniques, expert house washing in Port Wentworth ensures that your home remains a source of pride and retains its value for years to come.
Ensuring Effective Drainage and Structural Integrity with Professional Gutter Cleaning in Port Wentworth
Gutter cleaning in Port Wentworth is an essential maintenance task that should not be underestimated. Over time, gutters can become clogged with leaves, debris, and dirt, obstructing the proper flow of rainwater away from your home. This buildup can lead to overflowing gutters, causing potential water damage to your roof, walls, and foundation. However, by availing professional gutter cleaning services, you can prevent such water-related issues, as skilled technicians will meticulously clear out all obstructions and ensure that your gutters function optimally. With a well-maintained gutter system, you can protect your home from costly repairs, enhance its structural integrity, and maintain its exterior charm, making gutter cleaning in Port Wentworth a wise investment for every homeowner.
Preserving Your Fence's Appeal with Expert Cleaning Services in Port Wentworth
Fences not only provide security and privacy but also contribute significantly to the overall aesthetics of your property in Port Wentworth. However, over time, fences can accumulate dirt, grime, and weather-related wear, tarnishing their once-vibrant appearance. This is where professional fence cleaning services come into play. By entrusting the task to skilled professionals, you can effectively remove stubborn stains, algae, and other unsightly elements, restoring the beauty and durability of your fence. Regular fence cleaning not only enhances the visual appeal of your property but also extends the lifespan of your fence, making it a worthwhile investment that will leave your Port Wentworth property looking stunning and well-maintained for years to come.
BW Exterior Wash Services: Revitalizing Your View with Window Cleaning in Port Wentworth
For residents in Port Wentworth seeking to enjoy crystal-clear views from their windows, BW Exterior Wash Services offers exceptional window cleaning services. Over time, windows can accumulate dust, grime, and smudges, hindering natural light and diminishing the overall ambiance of your home. With BW Exterior Wash Services's professional window cleaning, however, you can bid farewell to these obstructions and welcome back the sparkle and shine. Using advanced techniques and eco-friendly solutions, their expert team ensures that every window is spotless and streak-free, allowing you to revel in unobstructed views and a brighter living space. Trust in the expertise of BW Exterior Wash Services to deliver exceptional window cleaning results in Port Wentworth, so you can enjoy the beauty of the outside world from the comfort of your home.
BW Exterior Wash Services: Harnessing Solar Power with Professional Solar Panel Cleaning in Port Wentworth
To fully harness the potential of solar energy in Port Wentworth, regular solar panel cleaning is essential, and BW Exterior Wash Services provides top-notch services to achieve just that. Over time, solar panels can accumulate dust, dirt, and debris, reducing their ability to capture sunlight and generate electricity efficiently. With BW Exterior Wash Services's expert solar panel cleaning, you can ensure that your panels operate at their peak performance, maximizing energy efficiency and savings on your electricity bills. Their skilled technicians use specialized equipment and eco-friendly solutions to remove all obstructions, allowing your solar panels to work at their best. Trust in BW Exterior Wash Services for professional solar panel cleaning in Port Wentworth, and embrace the full benefits of clean and sustainable energy for your home or business.
Storefront Washing in Port Wentworth: Making a Lasting Impression
The appearance of your storefront in Port Wentworth plays a crucial role in attracting customers and leaving a positive first impression. However, over time, storefronts can accumulate dirt, grime, and stains, detracting from their appeal and professionalism. Storefront washing services offer a reliable solution to keep your business exterior clean, inviting, and well-maintained. Professional technicians utilize high-pressure cleaning equipment to effectively remove oil stains, dirt, and other unsightly elements, restoring your storefront's pristine appearance. By investing in storefront washing in Port Wentworth, you can boost your business's curb appeal, increase foot traffic, and demonstrate a commitment to providing a welcoming and appealing storefront experience for your customers.
Building Washing in Port Wentworth: Restoring Elegance and Integrity
Maintaining the exterior of your building in Port Wentworth is vital for preserving its appeal and value. However, over time, buildings can accumulate dirt, grime, algae, and other pollutants, diminishing their visual charm. Building washing services offer an effective solution to rejuvenate your property's exterior and bring back its original beauty. Utilizing professional-grade equipment and expertise, skilled technicians ensure that every inch of your building is thoroughly cleaned, leaving it looking fresh and renewed. By investing in building washing in Port Wentworth, you can make a positive impact on visitors, tenants, and passersby, showcasing a well-maintained and visually appealing property that stands out in the neighborhood.
Parking Lot Washing in Port Wentworth: Clean, Safe, and Inviting
A well-maintained parking lot in Port Wentworth can significantly impact your business's success and customer experience. However, with constant vehicle traffic and exposure to the elements, parking lots can quickly become dirty and stained. Parking lot washing services offer a reliable solution to keep your parking area clean, safe, and inviting. Utilizing high-pressure cleaning equipment, professional technicians effectively remove oil stains, dirt, debris, and other unsightly elements, restoring the parking lot's pristine appearance. With a clean and well-organized parking lot, you can create a positive first impression on customers, improve overall safety by eliminating slippery surfaces, and ensure a pleasant experience for anyone visiting your business. Invest in parking lot washing in Port Wentworth to enhance your property's curb appeal, boost customer satisfaction, and make your business stand out from the competition.
ARTICLES & TIPS
Safe and Slip-Free: Restaurant Grease Removal Services for Concrete

When it comes to running a successful restaurant, cleanliness and safety are paramount. One area that requires special attention is the concrete surfaces where grease and oil tend to accumulate. Not only can this buildup impact the overall appearance of your establishment, but it can also […]

Why Wash My Solar Panels?

While we have been harnessing solar panels for energy for at least the past half-century, home solar panel arrays have only been taking off in popularity for the past decade or so. That means that many homeowners are still learning the ropes regarding their home solar […]
CALL TODAY FOR EXPERT PRESSURE WASHING IN RINCON & THE SURROUNDING AREAS!