Surface Cleaning For Your Property's Concrete Surface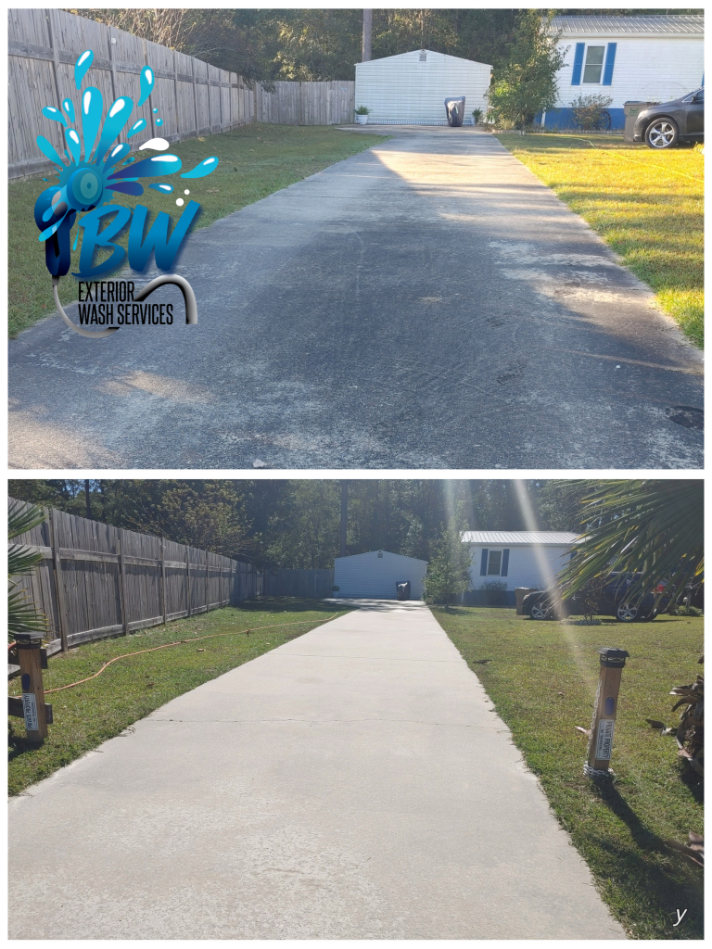 There are few things that can restore the visual appeal and health of the driveway on your Rincon property than pressure washing, namely driveway washing. When it's time to give your driveway a spa treatment with a surface cleaning service, BW Exterior Wash Services is the pressure washing company to call for the job in Rincon. We're happy to be your #1 Rincon pressure washing and driveway washing company!
Your driveway's surface is tough, but it's still very sensitive to the elements that it's exposed to on a daily basis. Human and environmental irritants, such as:
Dirt, dust, and debris
Mold and mildew
Algae streaks
Hard water and oil stains
Shoe and tire skids
Are working constantly to break down your driveway. Driveway washing is the best preventative measure you can take to ensure that these elements do little to no harm to your driveway's surface. Like stucco and brick washing, driveway washing is essential if you want to keep your entire property looking its best all year long!
Concrete Cleaning
Like any paved surface, concrete can stand up to a lot. Over time, it loses that resilience. In fact, it starts losing that resilience not long after your driveway or other concrete surface is laid down. If treated properly with regular cleaning, a concrete surface can maintain its resilience and resist many of the harmful effects of environmental exposure.
Concrete cleaning services, such as driveway washing, provide many great benefits to not only the surface being cleaned, but to your property overall. For instance, by scheduling regular driveway washing, you're treating your property to major benefits like:
An instant boost in curb appeal
A healthier environment for people and pets
A healthier, longer-lasting driveway
An immediate increase in overall property value
With a gentle touch that's tough on dirt and grime (but not your driveway's surface or your lawn), we deliver only the best in pressure washing results for your concrete surfaces. Don't let a fear of driveway damage hold you back from scheduling a driveway washing service. Please give us a call today to show your driveway the love it deserves!
Should I Have My Driveway Washed Every Year?
If you ask our pressure washing experts, the answer is "yes"! To keep your driveway looking, feeling, and functioning its best for a long time, yearly driveway washing is an excellent preventative measure to stave off the negative effects of dirt and grime.
Has it been over a year since you last had your driveway washed?
If so, when was the last time you had it washed?
If your answers are "yes" and "I can't remember", then it's well past time to schedule a driveway washing! Please give our pressure washing experts a call today to schedule a renewing, refreshing driveway washing service. We look forward to hearing from you!
ARTICLES & TIPS
Safe and Slip-Free: Restaurant Grease Removal Services for Concrete

When it comes to running a successful restaurant, cleanliness and safety are paramount. One area that requires special attention is the concrete surfaces where grease and oil tend to accumulate. Not only can this buildup impact the overall appearance of your establishment, but it can also […]

Why Wash My Solar Panels?

While we have been harnessing solar panels for energy for at least the past half-century, home solar panel arrays have only been taking off in popularity for the past decade or so. That means that many homeowners are still learning the ropes regarding their home solar […]
CALL TODAY FOR EXPERT PRESSURE WASHING IN RINCON & THE SURROUNDING AREAS!