Best Pressure Washing Company in Garden City, GA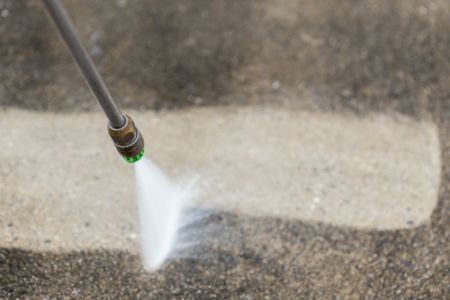 Keeping your house or commercial building looking like the jewel of your Garden City block takes some work, and a big part of that work is pressure washing. When you need someone to handle the task of pressure washing for your Garden City property, BW Exterior Wash Services is the company to call. You'll be hard-pressed to find another pressure washing company that gives your Garden City property the attention that we do!
In addition to providing the best pressure washing results around, delivering standout customer care is a specialty of ours. We truly care about you and your property. Throughout the entire process of having your Garden City property pressure washed, you call the shots related to how your property is pressure washed. We always want to deliver the best for our customers, and to us, that means delivering exactly what you want in a pressure washing service, exactly as you want it!
We know how important it is for you to maintain a high curb appeal for your Garden City property. We also know that you already work hard with a detailed upkeep and maintenance routine to keep your property looking its best. However, if pressure washing isn't a part of that routine, your property is losing out on a lot of benefits, such as:
Overall improved health
Protection from the elements
Increased property value
Let us handle the tough stuff for you! Reach out to us today to schedule a service with the best pressure washing company in Garden City.
Pressure Washing Services That Will Bring New Life To Your Garden City Property
To help you keep your Garden City property looking its best, we offer a wide variety of pressure washing services for residential and commercial property owners alike. Some of the services that we offer include:
House Washing
Roof Cleaning
Stucco & Brick Washing
Rust Removal
Window Cleaning
Gutter Cleaning
Parking Lot Washing
Parking Lot Striping
If your property is in need of a quality pressure washing, don't delay - give us a call today to schedule an appointment! We look forward to hearing from you.
Rejuvenate Your Garden City Property With Our Expert Roof Cleaning Service
When the roof of your Garden City property isn't looking its best, the rest of your property won't look its best. This is an issue that can be resolved with an expert roof cleaning service performed by BW Exterior Wash Services.
To protect your roof from the harsh effects of pressure washing, we use a technique known as soft washing. Soft washing is a method that uses little to no water pressure, with the water acting as a gentle rinse to wash away the dirt and grime lifted from the crevices of your roof by our environmentally safe cleaning solution. This method effectively washes away:
Dirt and dust
Wind-blown debris
Pollen
Mold, mildew, and algae
Hard water stains
Experience the difference of a soft wash roof cleaning today! Give us a call to schedule a consultation or an appointment.
Professional House Washing in Garden City
Revitalize your home's appearance with our top-notch house washing services in Garden City. Our skilled team utilizes cutting-edge equipment and eco-friendly cleaning solutions to remove stubborn dirt, grime, and mold, restoring your property's beauty and protecting it from damage. Experience the transformative power of our expert house washing services, enhancing your curb appeal and leaving your home looking pristine.
Expert Gutter Cleaning in Garden City
Ensure your home's gutters are in excellent condition with our specialized gutter cleaning services in Garden City. Our experienced team will remove debris, leaves, and other blockages, preventing water damage and potential structural issues. Using efficient and safe techniques, our gutter cleaning experts will keep your home protected and functioning optimally, giving you peace of mind during heavy rainfall and inclement weather.
Revive Your Fences with Expert Fence Cleaning in Garden City
Give your fences a new lease on life with our exceptional fence cleaning services in Garden City. Over time, fences can accumulate grime, mold, and weather-related wear, diminishing their visual appeal and structural integrity. Our skilled team of professionals employs advanced cleaning methods and eco-friendly solutions to meticulously remove dirt and restore the natural beauty of your fences. Whether you have wood, vinyl, or metal fencing, our tailored approach will enhance their appearance and extend their lifespan, protecting your investment for years to come. Experience the transformative power of our fence cleaning service, making your property's boundaries a source of pride and admiration for your neighbors and visitors.
Crystal Clear Views with Window Cleaning Excellence in Garden City
Uncover the sparkling potential of your windows with our unrivaled window cleaning services in Garden City. Over time, windows can accumulate dust, dirt, and stubborn smudges, hindering natural light and obstructing your view of the beautiful surroundings. Our expert team employs a meticulous approach, using streak-free techniques and environmentally friendly cleaning agents to leave your windows immaculately clean and crystal clear. Whether you have high-rise commercial windows or delicate residential panes, our skilled professionals ensure no spot is left untouched, allowing you to enjoy unobstructed vistas and inviting natural light into your living or working spaces. Embrace the difference our window cleaning service makes, transforming your property's aesthetics and creating a welcoming ambiance for all who enter.
Maximize Efficiency with Expert Solar Panel Cleaning in Garden City
Optimize the performance of your solar panels with our exceptional solar panel cleaning services in Garden City. Over time, dust, dirt, and debris can accumulate on the surface of your solar panels, reducing their efficiency and potentially costing you valuable energy savings. Our skilled team of technicians employs industry-leading cleaning techniques, utilizing purified water and gentle brushes to remove all traces of grime without causing any damage. By ensuring your solar panels are spotless and free from obstructions, we help you generate maximum electricity output, allowing you to make the most of your renewable energy investment and contribute to a cleaner, more sustainable environment. Experience the transformative impact of our solar panel cleaning service, increasing your system's lifespan and reaping the benefits of increased energy efficiency for years to come.
Impress Customers with Pristine Storefront Washing in Garden City
Make a lasting impression on potential customers with our impeccable storefront washing services in Garden City. Your storefront is the face of your business, and a clean, inviting appearance is crucial to attract foot traffic and instill confidence in your brand. Our expert team utilizes advanced pressure washing techniques and environmentally friendly detergents to remove dirt, grime, and stains from various surfaces, including windows, doors, sidings, and awnings. With a fresh and polished storefront, you'll stand out among competitors, drawing more customers into your establishment and creating a positive image that reflects the quality and care you put into your business. Embrace the transformative impact of our storefront washing service, elevating your business's visual appeal and setting the stage for a successful customer experience.
Elevate Your Building's Aesthetics with Professional Building Washing in Garden City
Enhance the beauty and cleanliness of your building with our top-tier building washing services in Garden City. As time passes, buildings can accumulate layers of dirt, algae, and pollutants, diminishing their visual appeal and potentially causing long-term damage. Our skilled team utilizes state-of-the-art equipment and safe cleaning agents to thoroughly wash and revitalize your building's exterior, including walls, facades, roofs, and hard-to-reach areas. By removing unsightly stains and grime, we restore your building's original charm and ensure it maintains a professional and attractive appearance that leaves a positive impression on clients, tenants, and visitors alike. Experience the transformative power of our building washing service, preserving the integrity of your property and elevating its overall aesthetics for a clean and welcoming environment.
Create a Welcoming First Impression with Parking Lot Washing in Garden City
Transform your parking lot into a clean and inviting space with our exceptional parking lot washing services in Garden City. As one of the first areas customers encounter, a well-maintained parking lot sets the tone for their entire experience. Our expert team utilizes high-pressure washing techniques and industrial-grade equipment to effectively remove oil stains, dirt, debris, and grime, giving your parking lot a fresh and immaculate look. By investing in regular parking lot washing, you not only enhance the safety and cleanliness of the area but also create a positive first impression that leaves visitors feeling confident and eager to explore your business. Embrace the transformative impact of our parking lot washing service, ensuring your property stands out as a place of pride and professionalism for customers, clients, and employees.
ARTICLES & TIPS
Safe and Slip-Free: Restaurant Grease Removal Services for Concrete

When it comes to running a successful restaurant, cleanliness and safety are paramount. One area that requires special attention is the concrete surfaces where grease and oil tend to accumulate. Not only can this buildup impact the overall appearance of your establishment, but it can also […]

Why Wash My Solar Panels?

While we have been harnessing solar panels for energy for at least the past half-century, home solar panel arrays have only been taking off in popularity for the past decade or so. That means that many homeowners are still learning the ropes regarding their home solar […]
CALL TODAY FOR EXPERT PRESSURE WASHING IN RINCON & THE SURROUNDING AREAS!