Regular Gutter Cleaning For A Well-Maintained Home
You may know that the gutters of your Rincon property could use a good gutter cleaning, but you may not feel like tackling the task. When you don't want to handle gutter cleaning for your Rincon property, let your top-rated source of pressure washing for Rincon take care of it! When you need reliable gutter cleaning services in Rincon, BW Exterior Wash Services is the pressure washing company to call for the best results.
Gutter cleaning is a task that very few homeowners want to take on. It can be time-consuming, hot, and grimy. If you want your house to look its best, though, gutter cleaning is incredibly important. If you don't have the time to handle gutter cleaning, or simply don't want to, your top Rincon pressure washing company is up to the task!
As servants of our community, we aim to do whatever we can to make life easier for the residents of Rincon. Part of our desire to make life easier for you means tackling the tasks that you don't have time to handle or may not want to handle with care, concern, and enthusiasm. Using good old-fashioned elbow grease and gentle soft washing techniques, we'll have your gutters clean and functioning properly again in no time flat.
Interior Downspout Cleaning
Keeping your downspout clean is just as important as keeping the gutters themselves clean. A properly cleaned downspout will help water and dirt flow freely from your gutters, keeping the channels clean and functional. Downspouts that are clogged lead to clogged gutters, which can lead to:
Overflow of grimy water onto the siding of your home
Development of hard water stains on the siding of your home
Development of algae streaks on the siding of your home
Growth of mold and mildew in your gutters, which can spread to the interior of your home
To help you avoid clogged gutters and the issues that can come with them, we deliver interior downspout cleaning as part of our gutter cleaning service. We want to make sure your gutters are able to function as they should when our service is through, and that means making sure the inside of your downspout is clean as well.
When our Rincon pressure washing pros clean the inside of your gutter's downspouts, we use the very same gentle soft washing process that we use during a roof cleaning. By using this gentle pressure washing method, we avoid causing unnecessary damage to the interior of your downspout, or dislodging the downspouts and gutters altogether. In the end, your gutters and downspouts will function as well as the day they were installed.
How Often Should I Have My Gutters Cleaned?
To maintain the curb appeal of your house, it's suggested to have your gutters cleaned at least twice a year. Of course, this depends on a variety of personal and environmental factors. For example, some homeowners may choose to order gutter cleaning services more often than others.
Our weather in Georgia is often beautiful, but we do see our share of heat, precipitation, and humidity. These elements can come together to draw some unsavory campers to exterior surfaces on your property. Heat, precipitation, and humidity can cause:
Growth of mold and mildew.
Growth of algae.
Overflow of dirt, dust, and debris.
If you're noticing any of these issues, or it's been over a year since you've ordered a gutter cleaning service, give us a call today. We can schedule a friendly expert consultation to help you create a custom pressure washing plan for your gutters.
Latest Gutter Cleaning Projects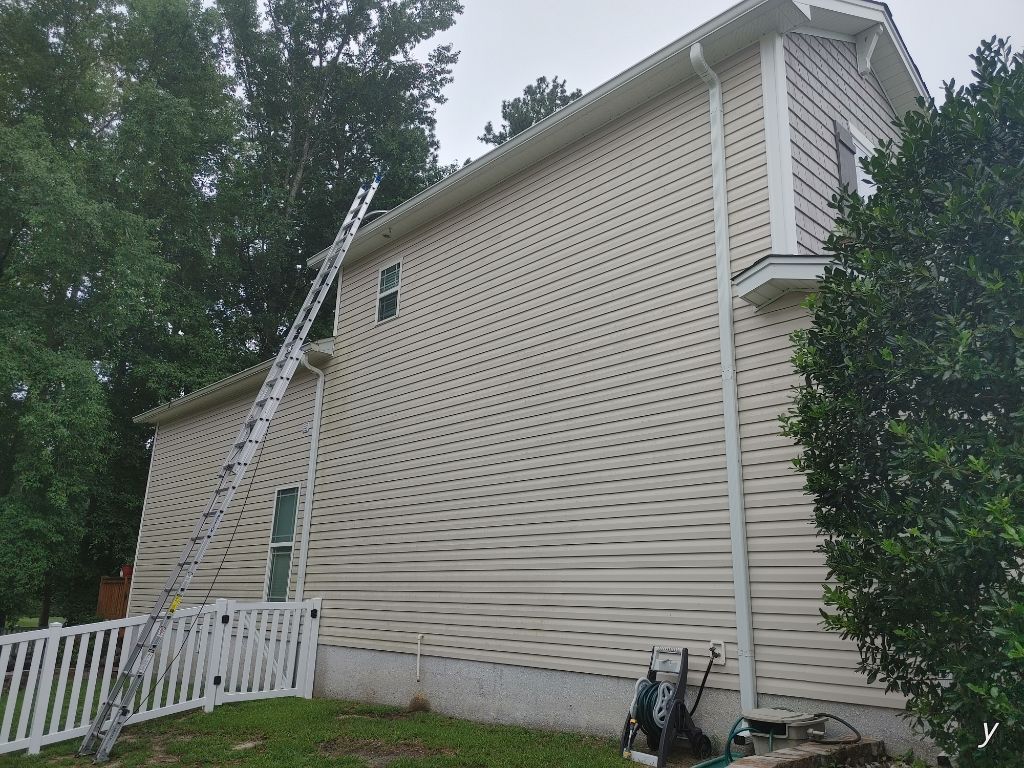 Gutter Cleaning in Guyton, GA
Customer called needing there second story gutters cleaned out. We removed all the debris from within the gutters and also flushed them to insure they where flowing correctly. […]
See This Project
ARTICLES & TIPS
Safe and Slip-Free: Restaurant Grease Removal Services for Concrete

When it comes to running a successful restaurant, cleanliness and safety are paramount. One area that requires special attention is the concrete surfaces where grease and oil tend to accumulate. Not only can this buildup impact the overall appearance of your establishment, but it can also […]

Why Wash My Solar Panels?

While we have been harnessing solar panels for energy for at least the past half-century, home solar panel arrays have only been taking off in popularity for the past decade or so. That means that many homeowners are still learning the ropes regarding their home solar […]
CALL TODAY FOR EXPERT PRESSURE WASHING IN RINCON & THE SURROUNDING AREAS!