Thorough Rust Removal & Metal Stain Cleaning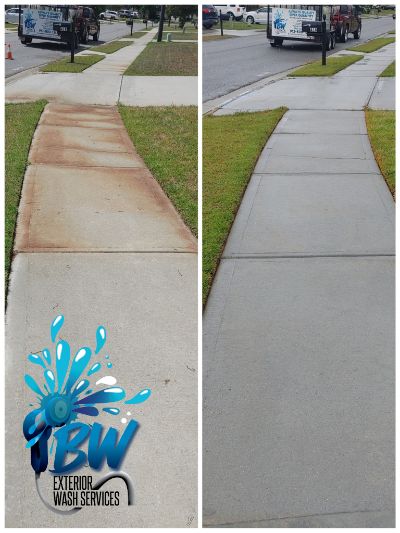 Rust can cause issues for a lot of external surfaces on your Rincon property, and the only way to prevent them is to schedule an expert rust removal. When you need expert rust removal for your Rincon property, BW Exterior Wash Services is the pressure washing company to call. As your #1 source of pressure washing in Rincon, we guarantee quality rust removal that won't come at the expense of harming your property!
Out of all the nuisances that can cause issues for your property, rust is perhaps the most unsightly and destructive, and can easily ruin metal surfaces on your Rincon property. It makes your property look much older and more run down than it truly is, essentially turning structures that are otherwise beautiful into virtual eyesores. It can also cause serious structural issues for your property, such as:
Weakening of metal structures
Holes in metal walls or roofs
Deformities in metal walls or roofs
Complete breakage of affected metal pieces
Rust can also cause serious damage to driveways and gutters if left unattended, making our rust removal service a perfect complement to our gutter cleaning and driveway washing services. No matter where rust may be affecting your property most, let us help you get rid of it before it causes any serious damage with our rust removal service. Your Rincon property will look and feel better for it!
Metal Stain Cleaning
While a minor nuisance compared to rust, stains on metal can be just as much of an eyesore. Metal is one of those structures that has the unfortunate ability to easily show stains and imperfections. It doesn't take much for a visitor to your Rincon property to notice any of the following on a metal surface if they look close enough:
Hard water stains
Fingerprints
Smudges of any size
Stains left behind by mud and dirt
When you need a pressure washing service capable of helping you get rid of pesky stains on metal surfaces, let BW Exterior Wash Services be the first call that you make! Our friendly Rincon pressure washing pros are experts at metal stain removal, and can help you make short work of any stains that are bringing down the visual appeal of metal surfaces.
With gentle pressure washing methods akin to the same soft wash methods that we use for roof cleaning or house washing, we help you get rid of stains on your property's metal surfaces without the risk of causing property damage. Once our pros have finished their job, the metal surfaces on your property will look good as new again.
Don't Let Rust Conquer Your Rincon Property - Eliminate It Today With A Top-Tier Rust Removal
If allowed to spread, rust can completely conquer your property and do a lot of damage. The faster you work to stop rust from spreading, the better the chance you have of keeping your property unaffected by the stuff. When you're ready for rust removal services to help you keep rust at bay on your property, we're just a phone call away!
Don't delay scheduling vital pressure washing services, such as rust removal, for your Rincon property another day. If you'd like to schedule one of our pressure washing services, please give us a call today. We look forward to hearing from you!
ARTICLES & TIPS
Safe and Slip-Free: Restaurant Grease Removal Services for Concrete

When it comes to running a successful restaurant, cleanliness and safety are paramount. One area that requires special attention is the concrete surfaces where grease and oil tend to accumulate. Not only can this buildup impact the overall appearance of your establishment, but it can also […]

Why Wash My Solar Panels?

While we have been harnessing solar panels for energy for at least the past half-century, home solar panel arrays have only been taking off in popularity for the past decade or so. That means that many homeowners are still learning the ropes regarding their home solar […]
CALL TODAY FOR EXPERT PRESSURE WASHING IN RINCON & THE SURROUNDING AREAS!