Exterior Restaurant Cleaning For Fantastically Clean Rincon Eateries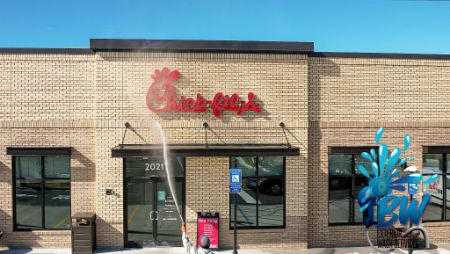 For exceptional exterior restaurant cleaning service for your business in Rincon, there's no better choice than our local small company here at BW Exterior Wash Services. We provide excellent pressure washing services to keep your atmosphere and ambiance prevalent for the exterior of your property so that it matches the interior that you've worked so hard to develop for your customers. Keeping a clean environment is especially important for businesses in the restaurant industry, and we're here to help you achieve a complete experience of cleanliness for your valued guests.
We're proud to offer the elite exterior restaurant cleaning service for businesses in Rincon. Our trustworthy local experts take customer service to the next level, catering to your specific needs so that you can provide the best customer service to your customers. Impress your clientele when you get the best results around by working with the pressure washing company that works to exceed your expectations.
Drive-Thru Washing Services Available
Having a drive-thru that's extraordinarily clean can set you apart from other restaurants in the area. Providing a pleasant experience for your customers from start to finish is the best way to encourage them to become repeat customers. Help to ensure you'll have a healthy and continuous stream of revenue by creating repeat business with a clean and inviting customer experience.
Having a clean drive-thru will also help to draw new customers to your establishment. Sparklingly clean businesses are more inviting than others and will help to increase your amount of first-time clients. Don't miss an opportunity to build a relationship with a new customer, create the most welcoming environment possible by using or exterior restaurant cleaning service as part of your routine maintenance regimen.
Improve Health and Safety Standards
When it comes to the restaurant industry, having truly exceptional health and safety standards can make your business thrive. Your customers and employees are trusting you to make their experience at your commercial property one that fosters a pleasant eating environment. Our exterior restaurant cleaning service creates this clean environment outside of your building to contribute to the atmosphere that keeps customers and employees happy inside.
When it comes to pressure washing for Rincon, BW Exterior Wash Services is the best choice to trust with this important aspect of routine maintenance for your business. Our expertly conducted cleaning services elevate your health and safety standards to their highest quality possible, helping your business to thrive. Be sure to take advantage of our commercial pressure washing services on a regular basis, including our exterior restaurant cleaning, parking lot cleaning, roof cleaning, and sidewalk cleaning services to keep your building at its best.
ARTICLES & TIPS
Safe and Slip-Free: Restaurant Grease Removal Services for Concrete

When it comes to running a successful restaurant, cleanliness and safety are paramount. One area that requires special attention is the concrete surfaces where grease and oil tend to accumulate. Not only can this buildup impact the overall appearance of your establishment, but it can also […]

Why Wash My Solar Panels?

While we have been harnessing solar panels for energy for at least the past half-century, home solar panel arrays have only been taking off in popularity for the past decade or so. That means that many homeowners are still learning the ropes regarding their home solar […]
CALL TODAY FOR EXPERT PRESSURE WASHING IN RINCON & THE SURROUNDING AREAS!