BW Exterior Wash Services Is Georgetown's Top Pressure Washing Service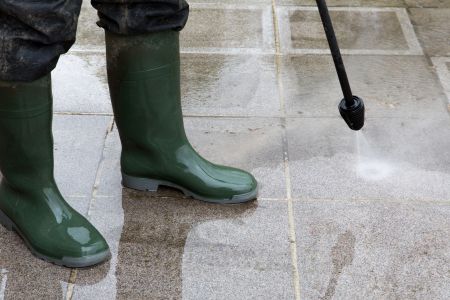 Don't let your Georgetown property go another day without a proper pressure washing! When you need top-tier pressure washing services to boost the curb appeal of your Georgetown property, give BW Exterior Wash Services a call today. No matter how simple or complex they may be, our pressure washing pros can easily perform services that meet the unique needs of your Georgetown property.
We've quickly become the top choice for pressure washing services for homeowners and business owners alike in Georgetown because of our:
Pressure washing expertise
Dedication to providing excellent customer care
Commitment to being honest in every communication we have with customers
BW Exterior Wash Services always strives to be a company that you can trust in all facets. We want you to be able to trust our ability to deliver the best pressure washing results, and we want you to be able to believe us when we tell you that we're the most reliable pressure washing company that you'll work with in Georgetown and the surrounding area.
Speaking of our services, we offer the best you'll find in Georgetown! Some of the services that you can take advantage of as a Georgetown property owner include:
Roof Cleaning
Stucco & Brick Washing
Rust Removal
Window Cleaning
Gutter Cleaning
Parking Lot Washing
Parking Lot Striping
Storefront Washing
Trust BW Exterior Wash Services For Top-Tier Pressure Washing Services In Georgetown
To maintain the visual appeal and well-being of your Georgetown property, it's important to schedule most of the services that we offer at least once per year. A yearly pressure washing is suggested by many pressure washing experts, including our own, to keep your house or commercial building in tip-top shape.
If it's been longer than a year since you've had your Georgetown property pressure washed, or you've never had it pressure washed at all, today's the day to give us a call! Our friendly Georgetown pressure washing professionals will be happy to help you schedule a consultation or pressure washing service appointment.
Our Roof Cleaning Service Can Revive The Roof Of Your Georgetown Property
If your Georgetown property has never experienced a roof cleaning, then it's losing out on some amazing benefits! Scheduling a yearly roof cleaning service for your property can:
Increase its curb appeal
Improve its health
Erase the harsh effects of adverse weather
Increase its overall value
Using our expert soft washing technique, we can erase dirt and grime from the surface of your roof without risking causing property damage. Our soft wash technique uses very little water pressure, if any at all! Our environmentally safe cleaning solution does the majority of the work, lifting dirt from the surface of your roof while the water rinses it away.
Once our work is done, you'll notice an instant improvement in the quality of your roof before the water even dries! Take it from us, your Georgetown property will look the best it's looked in a long time when you take advantage of our roof cleaning expertise.
Georgetown House Washing
Routine house washing with a pressure washer is crucial for maintaining the appearance and value of your property. It effectively removes built-up dirt, grime, and mold that can accumulate over time. Incorporating regular pressure washing into your home maintenance routine prevents potential damage caused by algae, mildew, and other contaminants, prolonging the lifespan of your siding, deck, and other exterior surfaces. Moreover, it enhances your home's curb appeal and promotes a healthier living environment by eliminating allergens and pollutants that may have settled on your property's exterior.
Gutter Cleaning Services in Georgetown
Regular gutter cleaning is vital for maintaining the integrity and functionality of your home's gutters. By removing leaves, debris, and other obstructions, you prevent potential clogs that can lead to water damage and costly repairs. Incorporating routine gutter cleaning into your home maintenance schedule ensures that rainwater can flow freely through the gutters and downspouts, preventing water from overflowing and causing damage to your roof, siding, and foundation. Keeping your gutters clean also helps safeguard against the risk of mold growth and pest infestations, promoting a healthier and safer living environment for you and your family.
Georgetown's Top Choice for Fence Cleaning
Professional fence cleaning services are an excellent way to revitalize the appearance and extend the lifespan of your fencing. Using specialized equipment and expertise, trained professionals can effectively remove dirt, grime, mold, and other stubborn stains that accumulate over time. By opting for professional fence cleaning, you can ensure a thorough and even clean, enhancing the curb appeal of your property and protecting your investment for years to come.
Window Cleaning in Georgetown
Expert window cleaning services offer a remarkable solution to restore the clarity and brilliance of your windows. Utilizing advanced techniques and equipment, skilled professionals can eliminate tough stains, smudges, and accumulated dirt, providing you with crystal-clear windows that let in more natural light. Opting for professional window cleaning ensures streak-free results and enhances the overall aesthetics of your home or business, leaving you with sparkling windows that create a positive impression and improve your view.
Georgetown Homeowners Love Our Solar Panel Cleaning Results
Homeowners need solar panel cleaning to maximize the efficiency and energy output of their solar systems. Over time, dust, dirt, bird droppings, and other debris can accumulate on solar panels, reducing their ability to capture sunlight effectively. Regular cleaning helps maintain optimal performance and ensures that homeowners get the most out of their investment in solar energy. Additionally, clean solar panels are essential for prolonging the lifespan of the system, as the buildup of grime can lead to potential damage and void warranties. By enlisting professional solar panel cleaning services, homeowners can promote sustainability, reduce energy costs, and contribute to a greener future.
Georgetown Looks Better With Storefront Washing
Business owners need storefront washing to create a positive and inviting first impression for potential customers. The exterior appearance of a store reflects the level of care and professionalism inside, influencing customer perceptions and foot traffic. Regular storefront washing removes dirt, grime, and stains, maintaining the aesthetic appeal of the building and enhancing its curb appeal. Additionally, storefront washing can help preserve the structural integrity of the storefront by preventing the buildup of pollutants that may cause damage over time, ultimately saving business owners from costly repairs and renovations.
Building Washing in Georgetown
Commercial property owners need building washing to maintain the overall cleanliness and appeal of their commercial properties. Regular building washing removes accumulated dirt, mold, algae, and pollutants, enhancing the building's appearance and making it more attractive to potential customers and clients. A clean and well-maintained building reflects positively on the business, instilling confidence and trust among visitors. Moreover, building washing helps to preserve the structural integrity of the property, as it prevents the buildup of corrosive substances that can cause damage over time. By investing in professional building washing services, business owners can ensure a welcoming and presentable environment, contributing to the success and reputation of their enterprise.
Georgetown Parking Lot Washing
Parking lot washing is vital for businesses as it plays a significant role in creating a positive first impression for customers and clients. A clean and well-maintained parking lot portrays a sense of professionalism and attention to detail, reflecting positively on the overall image of the business. Regular parking lot washing removes oil stains, dirt, debris, and other unsightly elements, improving the safety and cleanliness of the area for both pedestrians and vehicles. Additionally, a clean parking lot reduces the risk of slip and fall accidents, mitigating potential liabilities for the business. By investing in parking lot washing, businesses can enhance their curb appeal, attract more customers, and foster a welcoming environment that promotes customer satisfaction and loyalty.
ARTICLES & TIPS
Safe and Slip-Free: Restaurant Grease Removal Services for Concrete

When it comes to running a successful restaurant, cleanliness and safety are paramount. One area that requires special attention is the concrete surfaces where grease and oil tend to accumulate. Not only can this buildup impact the overall appearance of your establishment, but it can also […]

Why Wash My Solar Panels?

While we have been harnessing solar panels for energy for at least the past half-century, home solar panel arrays have only been taking off in popularity for the past decade or so. That means that many homeowners are still learning the ropes regarding their home solar […]
CALL TODAY FOR EXPERT PRESSURE WASHING IN RINCON & THE SURROUNDING AREAS!